Between clientele who have been to every one and those attending their first gathering of Dave's Custom Boats owners, the consensus was the same for the ninth annual DCB Regatta in Lake Havasu City, Ariz., at the end of September. Another winner.
DCB owners Rob Blair and Dave Hemmingson welcomed more than 50 enthusiastic customers to the Nautical Beachfront Resort for the Friday night kick-off party following a day of registration and fun outings to places such as Pirate Cove Resort and Havasu Springs Resort.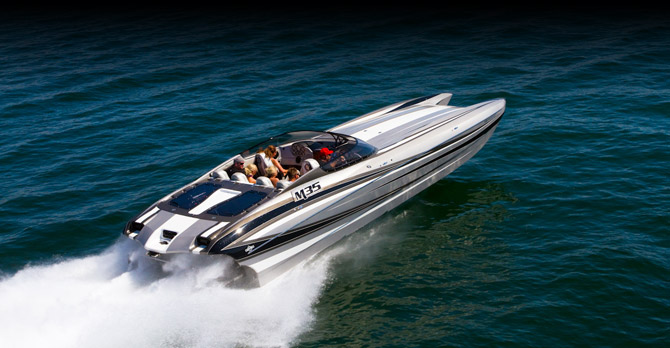 On Saturday, the helicopter photo shoot, lunch stop, raft-ups and other activities kept boaters busy from 10 a.m. to 5 p.m. Then, embracing the all-sports tailgate theme, quite a few regatta participants went all-out at the banquet sporting their favorite team jerseys or, if you're Brandon Allen, your favorite team from a movie—the Average Joe's from "Dodgeball: A True Underdog Story."
Allen, who lives in San Diego and owns Lime Time, a 2002 F34 catamaran with twin Mercury Racing HP525EFI engines, took home the male best dressed prize—April Lamb won the female contest for her Minnesota Vikings pride. Although he didn't bring his boat this year, Allen had a great time running in his friend Ken Leipper's Mach 26.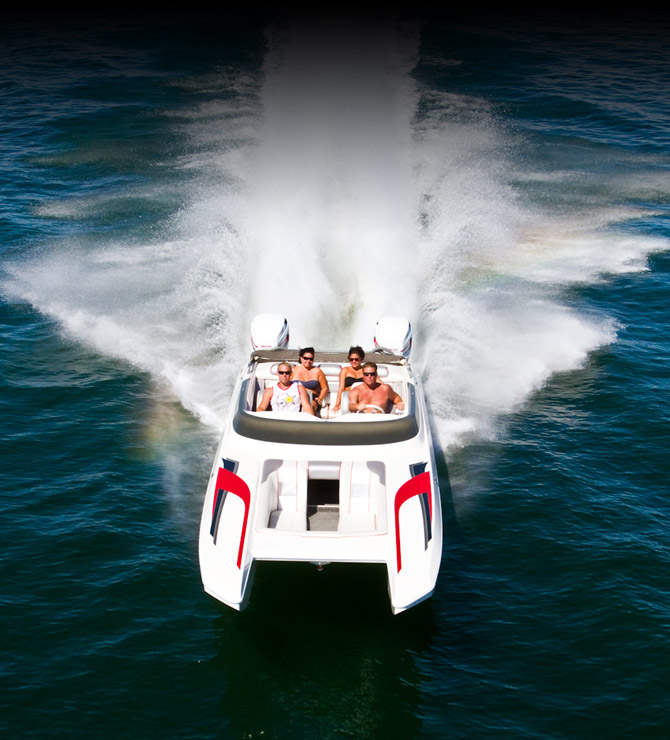 "This year's regatta was a blast," said Allen, who has attended every regatta. "I think moving the event date back like DCB did a couple of years ago has made it more enjoyable since it's not incredibly hot. Adding the party themes has made it fun as well. The DCB club is like a family so it's like a big reunion each year."
Owners of Stacked Deck One-Six—an F32 with a pair of 1,200-hp engines from Teague Custom Marine —the Teague family kept it simple by sporting their Team AMSOIL offshore race team jerseys during the banquet. Engine builder and industry icon Bob Teague throttles the Team AMSOIL Skater. His wife, Andrea, and kids, Cherilyn and John, make quite the team in the office and on the water. Regular regatta attendees, the Teagues enjoyed themselves as usual.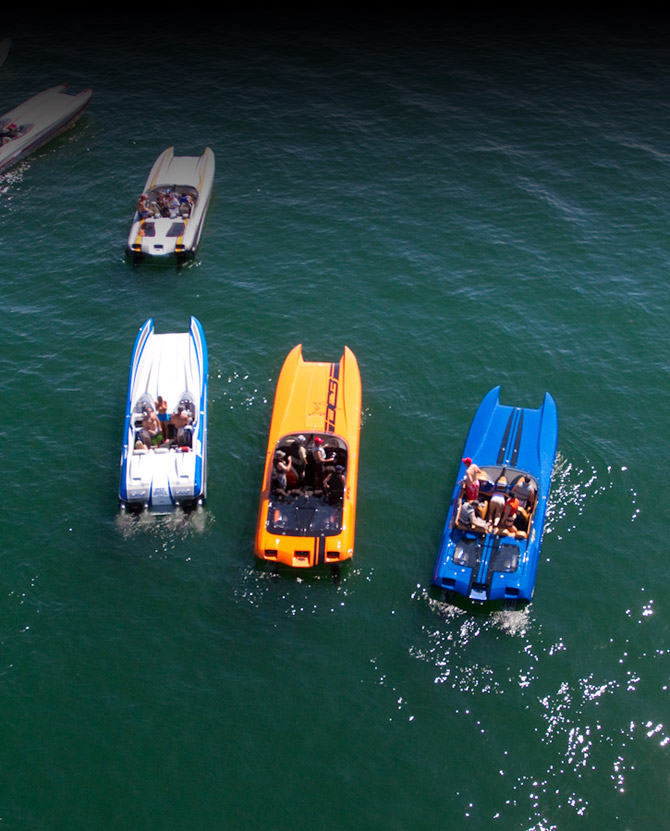 Cherilyn Teague was impressed with the variety of boats—old and new—covering the entire DCB lineup. She said the prizes also stood out. From the 47-inch TV and Macbook laptop to the iPads and product from regatta sponsors, the giveaways were more impressive than ever.
Arguably one of the most stunning DCB models of the event was the deep-blue M31 Widebody with twin turbocharged Mercury Racing 1100 engines owned by Brad Macaulay of Kelowna, British Columbia. Macaulay made the 3,600-mile roundtrip from Canada for his first DCB Regatta.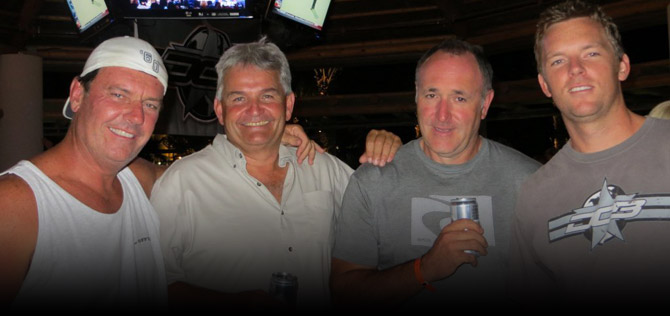 "The event was great—it was definitely worth the drive," said Macaulay, who owned three boats from Howard Custom Boats before getting the M31 this year. "I had a ton of fun with all the folks from DCB and the other DCB owners. I've got to give a special thanks to Rob Blair, Tony Chiaramonte and Paul Miller, and Dave and the entire crew of course, for showing me such a good time."
For the valued DCB customers who would like to purchase aerials or other photos of their boat and crew from the event, check out: Todd Taylor Images - Guest code: DCB 2012 Regatta or #16100
To check out many more images from the event, enjoy the 2012 DCB Regatta photo gallery here. Owners are welcome to send in some of their favorites, too, and we'll add them to the gallery! family@dcbperformanceboats.com.