Article By: RiverDave Part 1 of 2
It's sort of taboo in this day and age to talk about "1st to Card Stop One" because as we all know a poker run is certainly not a race. As a matter of fact in this years Desert Storm at least one "team" is going to quietly get disqualified for treating it as such. As poker runs evolve more and more are incorporating a "Shoot Out" to detract from the friendly and sometimes not so friendly competition of first to the card stop.
Overall the new formats will increase safety of the events, as well in theory provide a better show for the spectators as Huge horsepower rigs, both piston and turbine driven, unleash all they have in a mile long course. In a controlled environment and a shorter 1 mile course it should be easier for the spectators to get a better view of the action as well.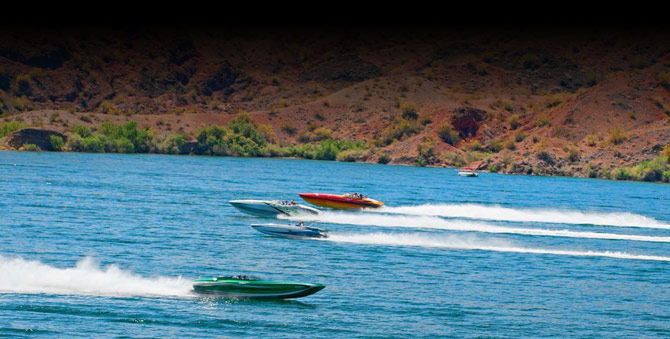 RDP has never been known to be politically correct though, and while the events are evolving this years Desert Storm and the chatter leading up to it had that same competitive vibe with respect to the infamous "Wozencraft Insurance Card Stop 1." In short it's not my job to create the news, or judge it, or alter it, I've always viewed my position to attend the event, and more or less tell it like it is..
As the boats left the dock there was a lot of excitement in the air at the Nautical , especially in the turtle bar where I had perched myself. As I sat at the bar drinking an Iced Tea (surprisingly enough) in pleasant company, with one of my board members "Hammer" and Dave Hards from Imco, the text messages start rolling in from the usual suspects. A lot of higher profile boaters that were either not running this year, or unable to attend. To save you the suspense the texts all read the same "Text me who is 1st to the card stop as soon as you know."
In years past there is always confusion, controversy, and even sometimes arguments of who is actually first. The idea being that it isn't a race, there is no finish line so how do you call it? Especially sometimes when it's close? This year I had three sets of eyes on cardstop one ready to report who was 1st. Devin Wozencraft, my wife Stacy Johnson, and Jason from Ultra Boats AZ.
From the videos I've seen from on the internet there was quite a bit of jockeying going on down the lake, some pulling ahead, some falling behind. Ultimately two of my three sets of eyes would give the nod to Tony C. in the green twin 1350 M-31 as entering the card stop area first and fastest. One of my set of eyes was leaning towards CRC. RDP "officially" gave the nod to DCB based on the 2 out of 3 vote.

It should be noted "Fastest Boat" during the Poker run would definitely be Gary Smith in Predator, he pulled hard on everyone during the fastest sections of the course, but ultimately had an ignition shut down on one of his motors three times during the run which ultimately ended up hurting a motor. In the life of the fast lane though it doesn't matter what happened up the lake (which had to be in the 190′s?), it matters who finishes. On the technicality Gary was in fact first to the card stop to pick up his cards as the Green DCB overshot it, CRC did not stop for their cards.
I ran into Dave Hemmingston at "The Turtle" after the poker run, and he was amped to say the least. To say this has been a long time coming is an understatement. I asked Dave what they had changed from last year on the 1350 green boat to pull out being number one this year. He mentioned they switched from Merc 39′s to 41′s and they had "Hot Rodded" the drives a bit, which puts this Green Machine in the mid 180′s still bouncing on the Rev Limiters.
As an honorable mention in group "B" (which I'm sure that is the wrong terminology for the actual Desert Storm groups) Tony Lombardi in his blue Teague Powered / Barrett Custom Marine "dialed in" DCB F32 was first to the card stop as well in his group!
Next up, the Shoot Out!
Photos courtesy of Naples Image
Brought to you by Lucas Oil