The ALL NEW MSeries M41 was designed and developed by Dave Hemmingson and is a first of it's kind with Class A Surfacing. The M41 was parametrically math sculpted in Unigraphics NX CAD software with the help of leading automotive based designer Rod Trenne. This process brought art, science and architecture together so that styling and engineering could blend into a seamless piece of art.
Class A Surfacing – an automotive derived term: "To achieve optically and mathematically distortion free highlights and reflections over a given surface or shape."
The only reason we can see an object is because of what an object is reflecting back at us. These reflections tell the visual story about a shape to help make it even more exciting to the eye.
Once the M41 deck and hull were finished in the virtual world, the data was transferred to a 100′ – 5 axis numerically controlled machine and milled out full size.
The new M41 from DCB. The bar has just been raised.

M41 Specs: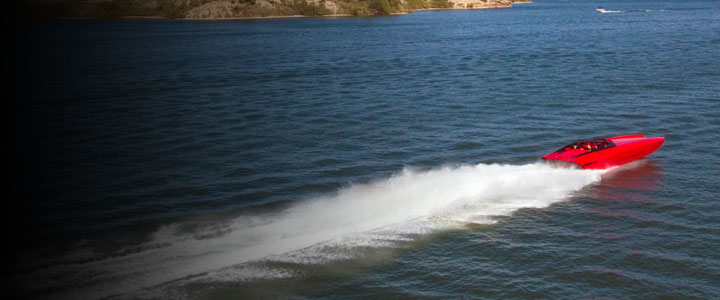 Length: 41 feet 1 inch

Max Beam: 130 inches

Cockpit Length: 102 inches

Avg. Weight – Twin Stern Drive: 9,750 lbs.
Fuel Capacity: 250 Gallons
Deadrise @ Transom: 14.5 degrees

Cockpit Beam: 89 inches

Avg. Trailer Weight – Triple Axle: 3,000 lbs.