The similar sleek, futuristic 3/4-canopied deck denotes similarities of the F29, but has a notable difference to boating in the expanse of deck layout with additional comfort. The SD30 is versatile in size, multiple motor applications, as well as ease of maneuvering a family within it's floorplan. Recognized as one of the "easiest to drive" mega performance machines, the steadfast control of the SD30 make it an instant winner with many high performance family lake boaters across the nation. The boats cockpit area is roomy and seats eight – ten. With an unyielding dedication to performance standards as well as exhibition of meticulous rigging and installation, the SD30 has been noted as the most luxurious, dazzling, high performance deck boat on the market.
SD30 Specs: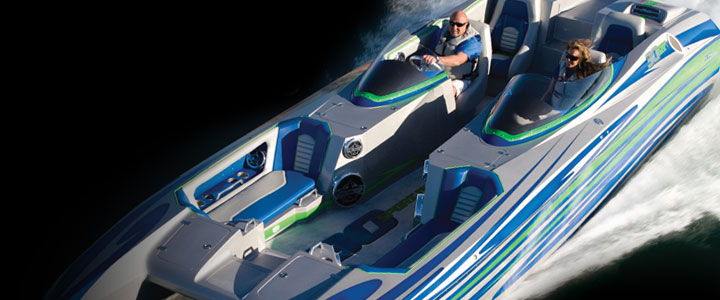 Length: 29 feet

Max Beam: 106 inches

Cockpit Length: 84 inches

Avg. Weight – Stern Drive: 5,200 lbs.
Avg. Weight – Twin Stern Drive: 8,400 lbs.
Fuel Capacity: 110 Gallons
Deadrise @ Transom: 14.5 degrees

Cockpit Beam: 78 inches

Avg. Trailer Weight – Triple Axle: 1,800 lbs.